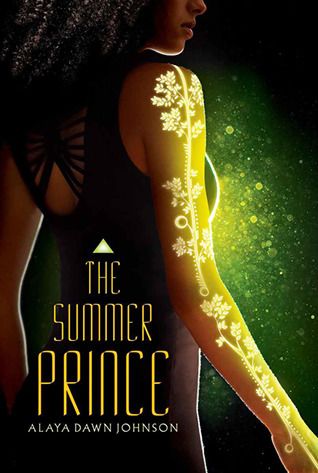 Author: Alaya Dawn Johnson
Publication Date: 03/01/2013
Publisher:
Arthur A. Levine
Pages: 304
Source: Publisher via NetGalley
A heart-stopping story of love, death, technology, and art set amid the tropics of a futuristic Brazil.

The lush city of Palmares Três shimmers with tech and tradition, with screaming gossip casters and practiced politicians. In the midst of this vibrant metropolis, June Costa creates art that's sure to make her legendary. But her dreams of fame become something more when she meets Enki, the bold new Summer King. The whole city falls in love with him (including June's best friend, Gil). But June sees more to Enki than amber eyes and a lethal samba. She sees a fellow artist.

Together, June and Enki will stage explosive, dramatic projects that Palmares Três will never forget. They will add fuel to a growing rebellion against the government's strict limits on new tech. And June will fall deeply, unfortunately in love with Enki. Because like all Summer Kings before him, Enki is destined to die.
In the wake of global nuclear war and a plague that ravaged the Y-chromosome, Palmares Três rises along the coast of Brasil, an enclosed pyramid of vibrant Brasilian culture against the elements. In the futuristic society, the matriarchy of Palmares Três blame both men and technology for the fall of the world and so have established a system where kings have limited power, but queens rule without fetter. June Costa, living a lofty life as a Tier Eight, exists for a few things: art, her best friend Gil, and to live in constant argument with her mother, whom she blames for not doing enough to prevent her father's death. When along comes Enki, the Summer King, and the future of Palmares Três - and June's - may never be the same.
It's difficult to describe my relationship with this book because I absolutely adored elements of it; this book took risks and some were brilliant and others felt trapped by the novel's construction. (To be fair, the copy I read was an eBook and so the formatting will obviously be different as a finished product, though that was only part of it.) Straight away I could tell that this book pulsed with a beautiful sense of something. Johnson has a firm grasp with words and deftly chooses diction and phrasing that helps to better envelop the reader within the bubble of what has become of Brasilian culture in June's world. It is because of this that I think a few issues cropped up; the author knew exactly the kind of world building she wanted to strive for, but the construction of the story itself hindered the reader from being fully immersed into the story. There were moments early on when too much was happening too soon and it took me a while to let the Portuguese terms wash over me and become embedded as part of the book's vocabulary. (Mind you, I wouldn't change the usage of the language because it makes the book, but perhaps a bit of spacing it out could be less intimidating for the curious reader.)
There were a few times where its construction made me think about putting the book down, but the invigorating story prevented me every single time. Because rather than being another post-apocalyptic story that focuses on the steadying of the world back to its feet, this one focuses on the microcosm of culture and life within the existence of Palmares Três and what has happened to these people since. The political structure is fascinating: the first king and queen of the city decided that the king would sacrifice his life for the city at the end of summer. The king's power lay in choosing, every five years, which queen should rule for the next ten; these are referred to moon year (almost like a midterm) and sun year (when a new queen is crowned). This was done to equalise power between the genders without entrusting too much power to the one (apparently universally blamed for, if any existence of the Y-chromosome plague is used as a reference) blamed for the world's destruction. I've read discussion of this book where readers haven't fully understood just why the Summer King has to die, and I think us as readers are just looking for some form of deeper meaning that we can rationally understand; the meaning is intrinsic to their culture during their period of living. (And, to be honest, a surprise relating to the Summer Kings is revealed near the end.)
The world of Palmares Três wouldn't work - wouldn't be brought to life - without characters who could take that background and paint their lives with it. June Costa is a sixteen year old artist that always wants to push the limits and see how she can explore her world, how she can understand it and herself through the art she is able to create. June lives in a world where a Summer King is chosen every year and where that same king is killed every year as a symbolic gesture for the city. She also lives in a world rife with caste and age discrimination, and as such she and the majority of Palmarinas choose Enki to be their Summer King - an outgoing, clever, and charismatic boy who grew up in the verde (the lowest level of caste structure in the pyramid). This might have been any other year except June, her friend Gil, and Enki meet in an explosion destined to alter their society, leaving people to wonder just what it means to be Summer King along with the intersection of long life and what it means to actually live, all set amidst the landscape of a vibrant and futuristic Brasilian culture.
This book, though not without its flaws, is a beautiful work full of characters that light up the world they inhabit. Though there are a handful of sexual instances in the book, they bothered me not a bit in the larger context of character and setting. Johnson has created a rather literary young adult novel that may take some persistence to get through, but in the end is more than worth it due to a stunning setting, unique set of circumstances, and characters that make it worth it.